Downloading Images & Video From Larsen Digital
1. Open Your Email
You will get an email from us providing you with a link to download your files.

Click on the button that says "Download It".

2. Log In
Your password is the last 5 digits of your order number.
Once you have entered your password, hit the arrow button to continue.

3. Download Your Folders
You can choose to download ALL your folders & files at once, or you can choose individual folders.
To Choose ALL Folders:
Click on the DOWNLOAD button located at the top right corner of the page.
To Choose Individual Folders:
Hover your mouse over the folder & a box will appear. Check the box next to the folder(s) that you want to download. Then hit the download button that appears on the highlighted line.
Please Note: Large downloads can take time, especially if you do not have high-speed internet.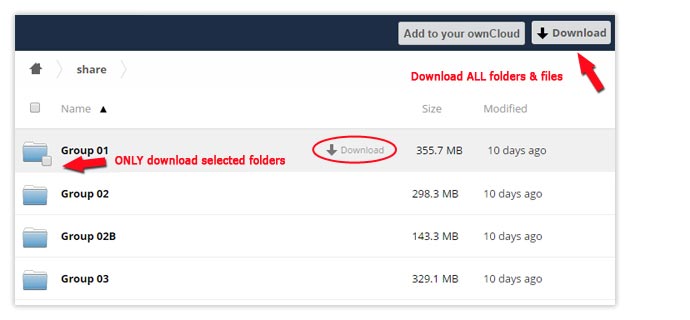 4. Zipped Files
Your files will be zipped when they download & you will need software to unzip the file.
Click here for help installing 7Zip
Click here for help Unzipping Files

Downloading Tips
Renaming Files & Folders
You can rename your files or folders online before you download them.
Moving Files
You are not able to move a file to a different folder while it is still online. You will need to download your files first & once it is on your own computer, you can move your files into any folder you like.
Download Digital Images
Downloading a lot of digital images can take a while, so be patient. Your web browser should give you an estimated completion time, or show the status of your download. If you do not have high-speed internet, we suggest downloading your digital images by individual folders.
Downloading Video Files
Our STRONG recommendation is that you download your video files individually. Video files are very large, and even with high-speed internet it can take a while for the files to download.
MAC Customers
The ZIP file that our cloud provider creates is sometimes met with some MAC customers. To unzip the ZIP files, you will need to install the software Unarchiver. Learn More.