DVD Engagement Slideshow
We have created an exceptional slideshow for your wedding reception. This slideshow will include pictures of the bride growing up and picture of the groom growing up and then pictures of the couple together.
Features
Jump Points / Chapters
Title Slides
Music
Main Menu Title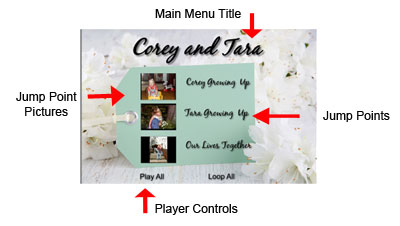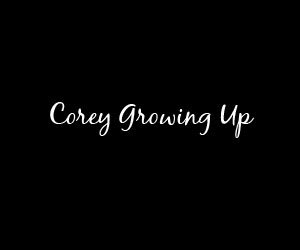 Converting Your Old Film to Digital Images to Use in Your Slideshow.
If you already have your images in a digital format, send them to us on a disc and your done. In most cases however your memories are still not digital, and you can't use them yet. Luckily, Larsen Digital specializes in converting old film to digital images. They are high-quality scans and will be color corrected and ready to use in your slideshow. Just fill out our order form to place and order for them. We recommend going with the Pro service so they are ready to be used in a slideshow. If possible, you will want to send your film or digital files in the order that you want them to appear in the slideshow. You will want to give them a title/chapter group as well. Some examples are: Corey Growing Up, Tara Growing Up, and Dating or Our Lives Together. If you are having a hard time getting them organized in the correct order, we can always scan them first and then send you a link to download your files. You can then use software like Google Drive to organize your images and then send us a link to the organized version.
Music Options
Royalty Free Music
We suggest sending in your own, it will sound much better.
Suggestions on Music for Bride
Brown-Eyed Girl - Van Morrison
You are so Beautiful - Joe Cocker
Butterfly Kisses - Bob Carlisle
Lady (Gap Commercial) - Lenny Kravitz
Daughters - John Mayer
Girls Just Wanna Have Fun - Cyndi Lauper
Happy Girl - Martina McBride
I Loved Her First - The Heartland
I Think About You - Collin Raye
Isn't She Lovely - Stevie Wonder
Just a Girl - No Doubt
Material Girl - Madonna
Miss Independent - Kelly Clarkson
My Girl - The Temptations
Pretty Woman - Roy Orbison
She's a Lady - Tom Jones
She's Got The Look - Roxette
She's Got A Way About Her - Billy Joel
She's Not Just a Pretty Face - Shania Twain
This One's For The Girls - Martina McBride
Uptown Girl - Billie Joel
Wild One - Faith Hill
You Are So Beautiful - Joe Cocker
Stealing Cinderella - Chuck Wicks
She's Everything - Brad Paisley
She's Country - Jason Aldean
Pretty Girl – Eric Clapton
Let them Be Little – Billy Dean
Mama's Song - Carrie Underwood
My Little Girl - Tim McGraw
Isn't She Lovely - Stevie Wonder
Suggestions on Music for the Groom:
83 - John Mayer
Back When - Tim McGraw
Bad to the Bone - George Thorogood
Beautiful Boy - Celine Dion or Ben Harper
The Best Day - George Strait
Chicks Dig It - Chris Cagle
I Go Back - Kenny Chesney
Lets Hear It For The Boy - Deniece Williams
My Guy - Mary Wells or Diana Ross and the Supremes
The Boy I'm Gonna Marry - The Crystals or Darlene Love
Young - Kenny Chesney
The Baby - Blake Shelton
Then They Do - Trace Adkins
Tough Little Boys - Gary Allan
Story Of My Life - Social Distortion
Sunrise, Sunset – Louis Armstrong
Best Day of My Life – George Strait
My Wish – Rascal Flatts
Once you have selected the music you want to use, you will want to tell us in the special instructions section on your order form or include a separate piece of paper with all of your instructions.
We recommend sending in music that you have legally obtained that fits the personality of the bride and groom. Instrumental music works beautifully for a wedding video as well.
Unless you request otherwise, each image in your slides will be on screen for 3 seconds, with a 1-second fade-in & 1-second fade-out transition between them, totaling 5 seconds of screen time per image. You will want to provide approximately 5 seconds of music per image for each chapter on your slideshow. Songs will need to begin & end in the same chapter. We can sync your slideshow to the duration of your music so that it will end in sync with the song, but you will want to get close to 5 seconds per image.
Custom DVD Slideshow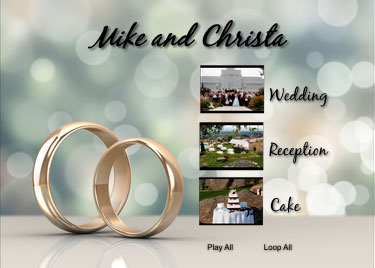 If you would like a Custom DVD slideshow of your wedding day, we have just what you are looking for. You can customize it so it's perfect to remember your special day forever.
For more information and options, see our
Wedding DVD Slideshow.