Frame vs. Strip
We will bill for every frame, not per strip. A strip is when there are multiple pictures side by side, where a frame is a single image.


Black & White Film
Our professional scanners use a technology known as Digital Ice Infrared Clean, but unfortunately, it does not work on Black and White film. We always welcome black and white negatives; however, dust, scratches, and fingerprints may be visible on the scans.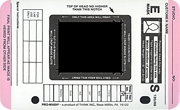 Carded Medium Format
Medium format films need to be loose. Any film(s) sent in a card will incur a $2 fee per frame.

If your strip length exceeds the numbers below, we may need to cut your film strips into shorter lengths. 2.25" x 1.75" - 3 frames max
2.25" x 2.25" - 3 frames max
2.25" x 2.75" - 2 frames max
2.25" x 3.00" - 2 frames max
2.25" x 3.25" - 2 frames max
2.25" x 3.75" - 2 frames max