DVD Video Slideshow
We believe that our DVD Video Slide Show is the finest offering available from anyone in the film scanning industry. We have devoted thousands of hours in research and programming to develop a fully customizable video slideshow product.
In addition, we now offer a PC version of the video slideshow (Windows only) with even higher resolution than what's available at DVD resolution. There is simply no better way to share your memories.
Quick Help
Below is a quick visual guide to our slideshow terminology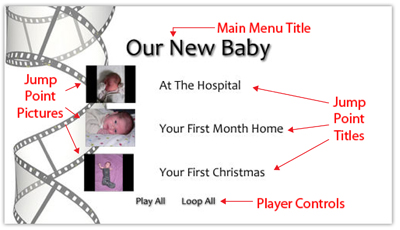 This is what a title slide looks like (minus the red writing of course!).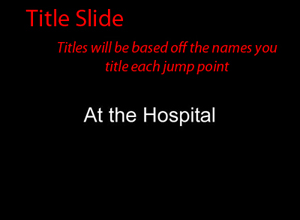 Putting your memories on the big screen!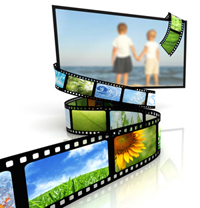 Features
Jump Point
A Jump Point is a "Chapter" in your video. If you choose to have jump points we will create them based off the names you give each of your groups.
Title Slides
A title slide appears at the beginning of each Jump point and will announce the title of the images you are about to view. This is a wonderful feature when watching multiple jump points in a row.
Music
Adding background music to your slideshow will really help it come to life. You can either choose from our library of royalty free music or send in your own music.
Main Menu Title
If you have a title for your entire project let us know in your special instructions and we will add it to your menu page. Customers choose things such as "Smith Family Memories" or "The Life of John Doe."
PC Slideshow
A PC Slideshow is just like a DVD Slideshow but it is formatted specifically for a PC and can display higher resolutions than a DVD.
*This disc is not playable in a TV or on a Mac.
Extra Disc Copies
Sharing your Video Slideshow with others is half the fun! Extra discs sets are inexpensive and work great as gifts for friends and family.
Music Options
Music Selection
Once you have selected the music you want to use, you will want to tell us in the special instructions section on your order form.
If you decide that our library of music isn't a good fit for your slideshow, just send us a CD that you legally obtained and we can use your music.
Unless you request otherwise, your slideshow will be on screen for 5 seconds, with a 1 second fade-in & 1 second fade-out, totaling 7 seconds of screen time per image. You will want to provide approximately 7 seconds of music per image for each chapter on your slideshow. Songs will need to begin & end in the same chapter. We can sync your slideshow to the duration of your music so that it will end in sync with the song, but you will want to get close to 7 seconds per image.
Slideshow from Digital Images
If you already have your images in a digital format and don't need them converted first, we can easily create a video for you. You will want to send us the images that you want to use in the order you want them to appear in the slideshow. If they are not in the order already, we can upload the images to our online image organizer so you can arrange them in the perfect order. Online Image Organization
You can still take advantage of all the features we offer, such as jump points, title slides, background music, main menu titles, and PC Slideshows.
Just give us a call and we can price out your project!
1-800-776-8357