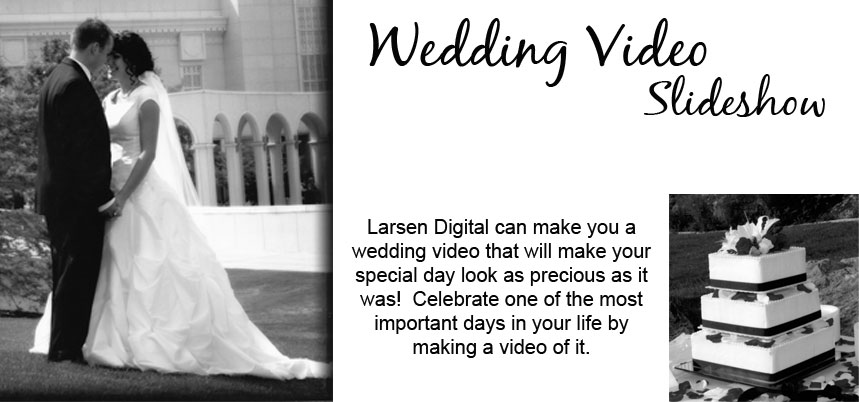 Packages
Wedding Pack 1
Includes up to 50 images.
Up to 3 Jump Points / Title Slides, Custom Menu, Title, Font, and Music.
$59.99
Wedding Pack 2
Includes up to 100 images.
Up to 4 Jump Points / Title Slides, Custom Menu, Title, Font, and Music.
$64.99
Wedding Pack 3
Includes up to 150 images.
Up to 6 Jump Points / Title Slides, Custom Menu, Title, Font, and Music.
$69.99
Features
Jump Point - "Chapter"
A Jump Point is a "Chapter" in your video, you can jump to wherever you would like in the slideshow based off of these.

When you are organizing your order, the name you give each group is the name we will assign your jump point (Wedding, Reception, etc.).
Title Slides
A title slide appears at the beginning of each Jump point and will announce the title of the images you are about to view. This is a wonderful feature when watching multiple jump points in a row. Some idea's that might fit your pictures are (Wedding Rehearsal, Wedding Breakfast, Wedding, Reception, Father-Daughter Dance, Wedding Cake). Feel free to make up your own as well.
Music
Adding music to your wedding video personalizes your wedding day even more. We recommend sending in music that fits your personalities. We have compiled a list of ideas for you. If you still aren't sure what music to use you can always use ours.
Please Note: music sent to us to use on your DVD Video must be legally obtained.
Main Menu Title
You can choose whichever title you would like for your slideshow. Some idea's are "John and Melissa 2014" or "Ryan and Misty Jones Wedding" or come up with something that fits you better.
Demo Wedding Slideshow
Quick Help
Below is a image of what a menu looks like. It comes up before you hit play on your slideshow. "Mike and Christa" is the TITLE. "Wedding, Reception and Cake" are all examples of JUMP POINTS.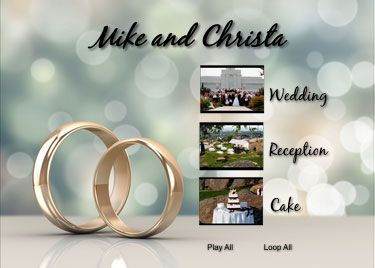 This is what a title slide looks like (minus the red writing of course!).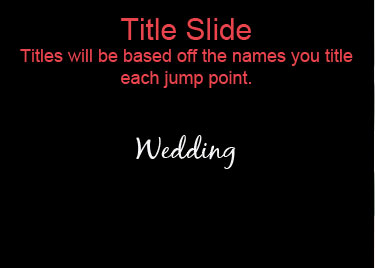 Images for Slideshow
If you already have your images in a digital format and don't need them converted first, we can easily create a video for you. You will want to send us the images that you want to use. If you have slides, negatives or prints that you would like to use in your slideshow, we have an order form to get these scanned and then we can make your slideshow. We will upload your images to our image organization system so you can view and change the order they will appear in the slideshow. You can also make your jump point groups here. Some examples are: Wedding Rehearsal, Wedding Breakfast, Wedding, and Reception. You can make a folder for the groups you would like to use and then drag and drop those images into those folders/jump points. Online Image Organization
Fonts
We have a couple different fonts below for you to choose from.
The title slide and menu above used Black Jack. The title slides in the actual slideshow used Edwardian Script.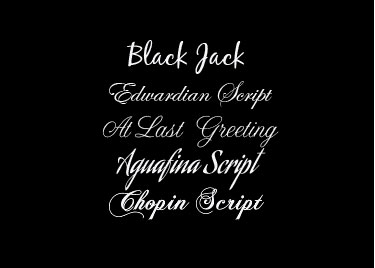 Menu Backgrounds
We have a couple different menu's you can choose from or we can use a picture you choose from your wedding.
Menu 1
Used "Chopin Script" font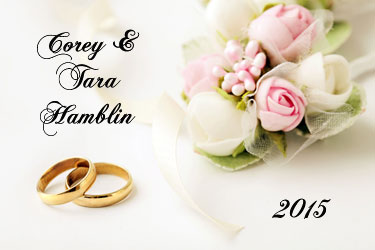 Menu 2
Used "At Last Greeting" font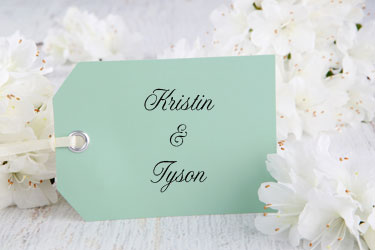 Menu 3
Used "Aquafina Script" font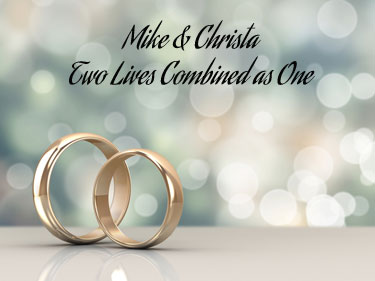 Music Options
We recommend sending in music that fits the personalities of the bride and groom or means something to you as a couple. Maybe your song together. Instrumental music works beautifully for a wedding video as well.
Unless you request otherwise, each image in your slides will be on screen for 5 seconds, with a 1 second fade-in & 1 second fade-out transition between them, totaling 7 seconds of screen time per image. You will want to provide approximately 7 seconds of music per image for each chapter on your slideshow. Songs will need to begin & end in the same chapter. We can sync your slideshow to the duration of your music so that it will end in sync with the song, but you will want to get close to 7 seconds per image.
List of Music Idea's
Marry Me - Train
A Thousand Years - Christina Perri
Canon In D - Pachelbel
Over the Rainbow - Israel Kamakawiwo'ole
Make You Feel My Love - Adele
Come Away With Me - Norah Jones
First Day Of My Life - Bright Eyes
I Do - Colbie Caillat
Marry You - Bruno Mars
I Won't Give Up - Jason Mraz
Everything I Do, I Do It For You - Bryan Adams
This Years Love - David Gray
Better Together - Jack Johnson
When You Say Nothing At All - Alison Krauss
All You Need Is Love - The Beatles
Here Comes the Sun - The Beatles
Ho Hey - Lumineers
Bless The Broken Road - Rascal Flatts
Only Time - Enya
Wanted - Hunter Hayes
At Last - Etta James
By Your Side - Sade
Heavenly Day - Patty Griffin
I'm Yours - Jason Mraz
Good Life - One Republic
God Gave Me You - Blake Shelton
Bitter Sweet Symphony - Verve
I Do (Cherish You) - 98 Degrees
Jesu, Joy of Man's Desiring - Acoustic Alchemy
I Will - The Beatles
In My Life - The Beatles
Angel Eyes - Jim Brickman
Yellow - Coldplay
Lucky - Jason Mraz & Colbie Caillat
Wonderwall - Oasis
Home - Phillip Phillips
1,2,3,4 (I Love You) - Plain White T's
This I Promise You - NSYNC
God Only Knows - Beach Boys
Blackbird - The Beatles
Ode to Joy - Beethoven
Paradise - Coldplay
L-O-V-E - Nat King Cole
The Prayer - Celine Dion
Dixie Cups - Chapel Of Love
Extreme - More Than Words
You and Me - Lifehouse or Dave Matthews Band
She's Everything - Brad Paisley
Waitin' On A Woman - Brad Paisley
You Are The Best Thing - Ray Lamontagne
Marry Me - Train
A Thousand Years - Christina Perri
Better Together - Jack Johnson
At Last - Etta James
Lucky - Jason Mratz + Collbie Caillat
Wanted - Hunter Hayes
Then - Brad Paisley
Make You Feel My Love - Adele
Love and Marriage – Frank Sinatra
L.O.V.E. – Nat King Cole
Wrapped Up In You – Garth Brook
It Must Be Love – Alan Jackson
Only You – The Platters
On My Wedding Day – Don Henley
A Moment Like This – Kelly Clarkson
From This Moment On – Frank Sinatra
The Best is Yet to Come – Frank Sinatra
Stand By Me – Ben E. King
Grow Old with Me – Mary Chapin Carpenter
I Say A Little Prayer – Aretha Franklin
Because You Loved Me – Celine Dion
I Only Wanna Be With You – Hootie & the Blowfish
One Boy, One Girl – Collin Raye
It Had to Be You – Frank Sinatra
Someone Like You – Van Morrison
Unforgettable – Nat King Cole
Everytime I Close My Eyes – Babyface and Mariah Carey
I Swear – John M. Montgomery or All 4 One
From This Moment – Shania Twain
I Cross My Heart – George Straight
Once In A Lifetime – Aaron Neville & Kenny G
With This Ring – Platters
Me and You – Kenny Chesney
Wrapped Up In You – Garth Brook
It Must Be Love – Alan Jackson
Only You – The Platters
On My Wedding Day – Don Henley
A Moment Like This – Kelly Clarkson
From This Moment On – Frank Sinatra
The Best is Yet to Come – Frank Sinatra
Stand By Me – Ben E. King
Grow Old with Me – Mary Chapin Carpenter
I Say A Little Prayer – Aretha Franklin
Because You Loved Me – Celine Dion
I Only Wanna Be With You – Hootie & the Blowfish
One Boy, One Girl – Collin Raye
It Had to Be You – Frank Sinatra
Someone Like You – Van Morrison
Unforgettable – Nat King Cole
Everytime I Close My Eyes – Babyface and Mariah Carey
I Swear – John M. Montgomery or All 4 One
From This Moment – Shania Twain
I Cross My Heart – George Straight
Once In A Lifetime – Aaron Neville & Kenny G
With This Ring – Platters
Me and You – Kenny Chesney
The Way You Look Tonight - Bruce Springstean